#CSIE19 – Treffen Sie uns in Miami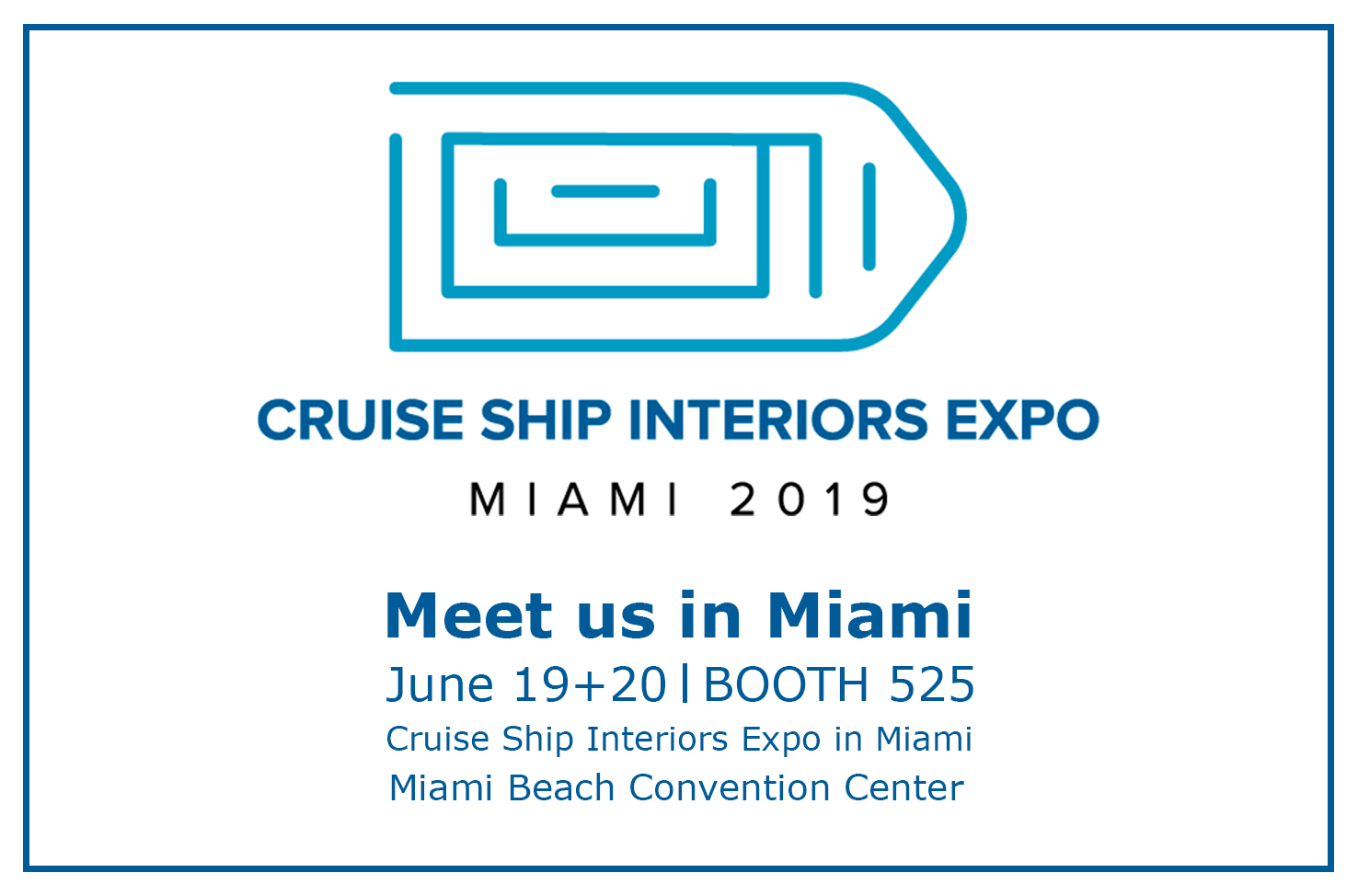 Mai 2019
#CSIE19 – Treffen Sie uns in Miami
June 19+20 | BOOTH 525
Cruise Ship Interior Expo in Miami,
Miami Beach Convention Center
Holen Sie sich Ihren kostenlosen Messe- und Konferenzpass unter diesem Link.
Neues Konzept – ORIGIN… für eine nachhaltige Zukunft.
Wir sehen den Trend, dass wir in der Einrichtung mehr und mehr nach Authentizität streben. Wir möchten uns mit echten und ehrlichen Materialien umgeben. Materialien, die nichts anderes vorgeben zu sein, als das, was sie sind. Mit ORIGIN gehen wir zurück zu unseren Wurzeln – zum Rohstoff WOLLE. Wir präsentieren unsere neuen Teppichbodenlösungen, die aus ungefärbter Wolle hergestellt sind und in ihren natürlichen Farbvariationen erstrahlen.
Colortec RE:THINK
Colortec RE:THINK ist unsere Cradle to Cradle CertifiedTM Bronze Teppichbodenlösung. Wir haben uns auf eine zielorientierte Reise in eine nachhaltige Welt begeben. Wir überdenken unser Handeln und sind entschlossen, zur Entwicklung umweltfreundlicher Lösungen im Hotel- und Gastgewerbe beizutragen. Lesen Sie mehr über Colortec RE:THINK.
Nachhaltigkeit im Design & Betrieb
Nachhaltigkeit sollte ein wesentlicher Bestandteil eines Geschäftsplans sein. Die Umsetzung von Nachhaltigkeitszielen wirkt sich auf allen Bereichen des Geschäfts aus und beeinflusst die täglichen Entscheidungen beispielsweise bei der Gestaltung der Innenausstattung von Kreuzfahrtschiffen. In dieser Session wird erläutert, was dies in der Praxis bedeutet.
Fallbeispiel: Cradle to Cradle – Philosophie für Dansk Wilton, gefolgt von einer Paneldiskussion. Mittwoch 19. Juni 2019, 12:50 bis 13:50. Mehr zum Konferenzprogram hier.