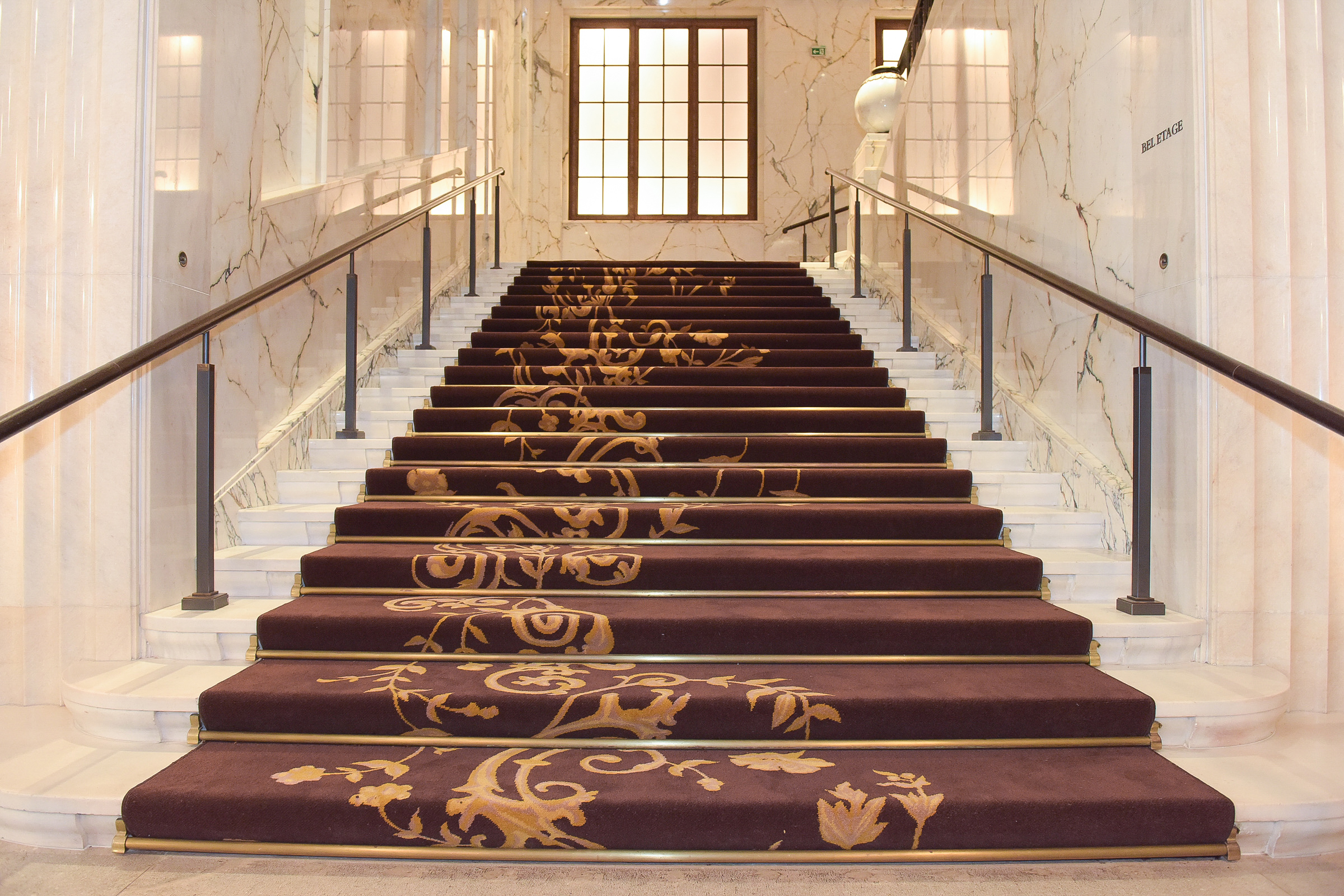 Creditanstalt, the world's first investment bank, opened its doors on Vienna's historic Am Hof Square in 1912. Today, this distinctive, opulent building of profound historical substance houses a superior hotel, belonging to the legendary, luxurious Hyatt chain. Park Hyatt Vienna opened in 2014 and, despite a sweeping refurbishment project, the centuries old architecture has retained is historical style and charm, seasoned with fascinating, modern design, inspired by the unique Vienna atmosphere.
As soon as you step into the beautiful lobby, the lavishness evoked by the precious, elegant materials, such as wood, mother-of-pearl and marble, decorating the interiors, walls and floors overwhelms you. The luxurious carpets, ingenious details and impressive floral arrangements worthy of a king are captivating.

"Red" carpet with lovely details
The hotel exudes history, and every single detail has been taken into consideration during the refurbishment. One area of particular consideration is the impressive carpet winding its way up the beautiful marble staircase and spreading throughout the hotel. The elegantly designed carpet has a warm mocha colour with floral sprays and ornamentation of gold. This exceedingly beautiful design is a re-creation of the original carpet design.  It is based on the 'red carpet' concept, a classic symbol of the walkway for ceremonious occasions, and this carpet welcomes guests and bespeaks that an exclusive experience is in store. And notably such an event was planned for the official opening of this elegant new carpet: a large prominent wedding party at the hotel. This made for some hectic days leading up to the carpet's completion so that it would be ready on time.

A carpeting solution from A to Z – from original design proposal to installation
The refurbishment project is the result of intense collaboration between local carpet merchant Omar Besim, who is the third generation in the renowned family-owned business Adil Besim, and Angélique Krauter, Country Manager at Dansk Wilton. In addition, an in-house project team at Dansk Wilton – including a project manager, technical designers, designers and production planners – ensured a flexible process. This demanding project meant that everything had to converge in a process of design, calculation of carpet consumption, production and installation of such an essential carpeting project in such an exacting setting. This was particularly true at Park Hyatt Vienna, where calculating the textiles required for the numerous steps and getting motifs to match all surfaces and angles was a big, challenging piece of work. Many requirements and demands came into play, as nothing was left to chance, and details and quality had to be par excellence throughout.
Dansk Wilton has notably specialised in delivering the 'whole package' for the carpet supply, from design development to in situ measuring, logistics, production and ultimately having the carpet installed. Dansk Wilton and Adil Besim joined forces to ensure that the quality conformed to expectations and that they measured up to the task's complexity and time schedule. Punctual delivery and installation in the heart of the hotel, without closing off the hotel to guests, was crucial for the project, as everything had to be completed before the large, lovely wedding at Park Hyatt Vienna.
Park Hyatt Vienna is a quintessential guest experience sparkling with stardust!

Carpet Facts
Customer:
Park Hyatt Vienna
Project:
Park Hyatt Vienna, renovation of public areas

Carpet solution:
Dansk Wilton delivered custom designed Axminster carpets for public areas and custom designed Colortec carpets for corridors

Carpet specifications:
Axminster 1700 g/m2
Colortec 1700 g/m2 with textile backing