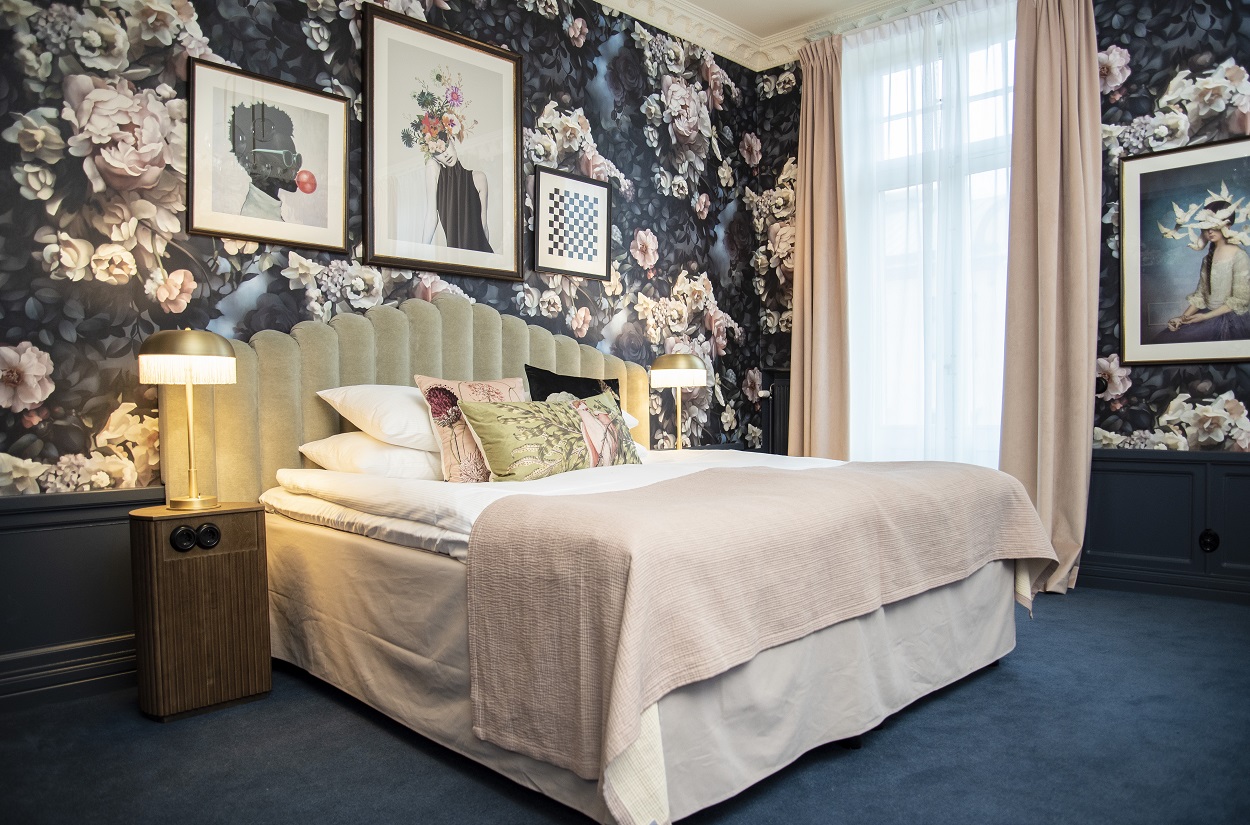 Design to enhance guest experience
Visiting a hotel must be an experience all its own. As a guest, you must feel like returning and like sharing your experience with others, preferably on social media.
A unique design experience can support the achievement of a rewarding guest experience. Design that stimulates our senses and prompts us to experience and enjoy, but most of all, to feel we are special.
The design experience at the Vault Hotel focuses on the unique interaction of quality, colours and materials.
Read more about how the Vault Hotel creates a unique design experience of space and functionality.
Welcome to a Vault designed for people
"The Vault Hotel is built on an authentic bank vault from early last century when the building was a bank. But the tinkling sounds you hear today are probably not money being counted, but ice cubes in a glass for chilling your Manhattan.
Welcome to the Vault Hotel whose magnificent history creates tasteful new rooms to spend time in, rooms that definitely create memories worth remembering." – www.thevaulthotel.se
Entering the Vault Hotel in Helsingborg is a unique experience where well-being, homely atmosphere and artistic design converge. Visitors are charmed by the beautiful old building from the late 1800s, and when it comes to the interior design, nothing is left to chance. Great attention has been given to every detail involving patterns, colours and textiles, which not only immerse visitors in warmth and softness, but provide a unique visual experience as well.
Rooms simply oozing a "wow!" factor
Each room in the Vault Hotel is graced with beautiful wallpaper and the softest textiles to evoke a perfect blend of homely charm and luxuriousness. The wallpaper was selected for its elegant patterns and calming, subdued colours. To create a beautiful whole, unicoloured carpets were chosen to accentuate the spatial styles and atmospheres. The unicoloured carpets also serve to calm, balance and soften the effects of the floral wallpaper.
Dansk Wilton carpets can be developed in a countless variety of designs and patterns. If a calm base for the papered walls is needed, as in this case, the loveliest, simplest solution can be unicoloured carpets. By choosing an elegant colour that recurs on walls and furniture, the carpet becomes an integral feature of the interior design and helps create a unique result.
The carpets are an important design tool which enhance the experience visually, tactilely and sensually. The carpets were also carefully selected in terms of both materials and colours. The materials ensure a healthy indoor climate for guests and guarantee a long service life.
The individual rooms of the Vault are designed with a variety of wallpaper patterns, each with a matching carpet, thereby enabling the hotel to offer unique rooms that tell their own individual story. The hallmarks of the rooms at the Vault Hotel are high quality; luxurious, enveloping softness; and a pleasant homely atmosphere.
Warm, intimate atmosphere
The interior design of a hotel must be consistent and be able to both surprise and appeal to its guests. Certain requirements must be met by not only the rooms and lobby area: the long corridors must also create a specific atmosphere. The details of the Vault Hotel have been considered throughout, even for the corridor areas. A warm, pleasant and intimate atmosphere has been created here, too, with dark walls and a unique eye-catching carpet for a compelling, astonishing effect.
The Vault Hotel brilliantly exemplifies the creation of a unique atmosphere through colours, wallpaper and textiles. The surface decorations of walls and floors are consistently and elegantly balanced.
Visit "The Vault" universe.
Carpet Facts
Customer:
ROOMREPUBLIC
Architect:
Spik Studios
Project:
The Vault Hotel, Helsingborg, complete renovation
Carpet solutions:
Dansk Wilton delivered Colortec carpet solutions.
Carpet specifications:
Rooms: Colortec 1100 g/m2 with integrated felt backing.
Corridors: Colortec 1500 g/m2 with integrated felt backing.
Pictures from The Vault Hotel media archive