CASE STORIES /
Hurtigruten Roald Amundsen
Hurtigruten is investing more than EUR 670 million in new technology and sustainable solutions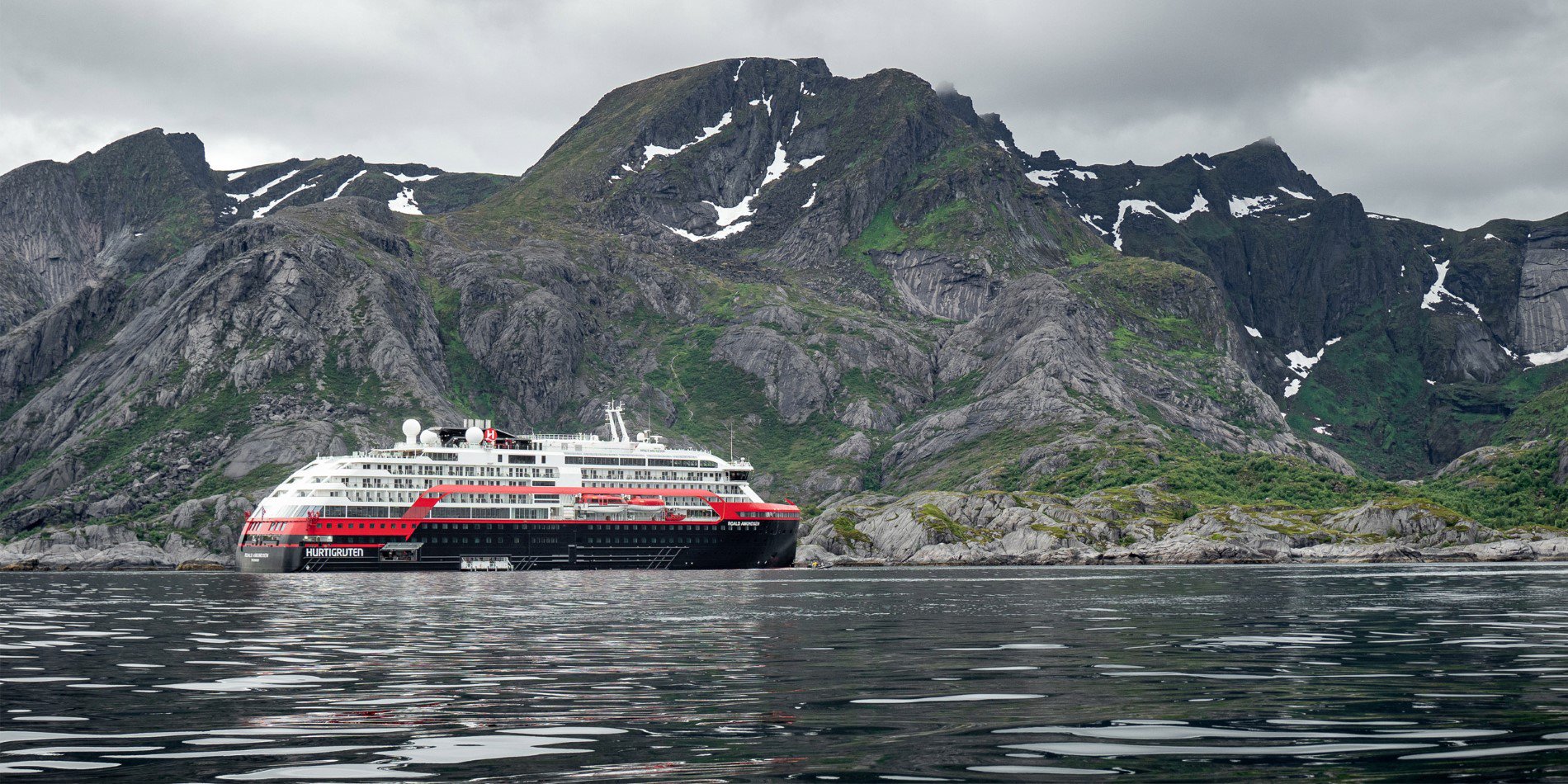 The cruising industry is also focused on generating sustainable development
Hurtigruten is one of the companies making massive investments.
In 2018, Hurtigruten was the first major global company to stop using single-use plastics. This year, the company marked an essential milestone when MS Roald Amundsen, the newest addition to the fleet, entered service and opened a new chapter in maritime history.
MS Roald Amundsen is the first hybrid electric-powered cruise ship. The engines will normally run on low-emission diesel but can be topped up with electricity from a huge battery pack, cutting fuel consumption by up to 20 per cent and allowing the luxurious 530-passenger ship to coast silently and with zero emissions for up to 30 minutes in Arctic or Antarctic waters. She will sail at an average speed of 15 knots.
Up until 2021, Hurtigruten is investing more than EUR 670 million in new technology and sustainable solutions. The company aims to have at least 6 of its 16 ships powered by a mixture of biogas and LNG by 2021.
Cradle to Cradle CertifiedTM– Colortec RE:THINK
The sustainable mindset is also reflected in the interior design of the ship: MS Roald Amundsen is furnished with Cradle-to-Cradle certified carpets from Dansk Wilton, brilliantly exemplifying how luxurious furnishings are fully compatible with sustainability.
The interior design firm behind MS Roald Amundsen is Tillberg Design of Sweden (TDoS), a world-leading design company renowned for luxury cruise-ship, hotel and restaurant interiors. A sustainable design mindset is essential to TDoS as well. Daniel Nerhagen, TDoS Partner & Project Director for the MS Roald Amundsen, says:
"The essential focus of the design for Hurtigruten's new cruise ship has been classic, sustainable design throughout the ship. With only functional solutions and natural, authentic Scandinavian materials, passengers get an excellent sustainable experience at sea."
At Dansk Wilton, we welcome this development and the sustainable design approach. If all stakeholders take responsibility and seek the best solutions for people and the environment, this will ensure the future of the industry.
We congratulate the owners, crew and passengers on the deployment of the new innovative ship, the MS Roald Amundsen.
Further details:
Cradle to Cradle and Colortec RE:THINK
Carpet Facts:
Customer:
Hurtigruten
Architect:
Tillberg Design of Sweden (TDoS)
Project:
MS Roald Amundsen, new build
Carpet solutions:
Dansk Wilton delivered Colortec RE:THINK carpet solutions as well as Axminster carpets.
Carpet specifications:
Suites and cabins: Colortec RE:THINK 1300 g/m2 with integrated felt backing.
Corridors: Colortec RE:THINK 1500 g/m2 with integrated felt backing.
Public areas: DW Contract Axminster 1700 g/m2 and Colortec RE:THINK 1700 g/m2 with integrated felt backing.
Pictures from Roald Amundsen, Hurtigruten