A graduation project by Gabriella Constantinou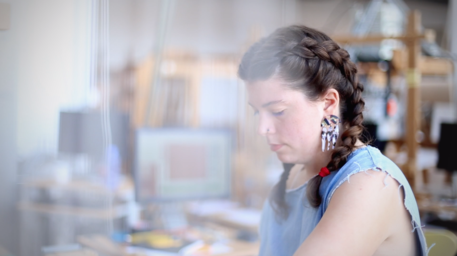 Reusing or recycling materials and seeing waste as a new-product resource is a highly topical theme. In the Cradle to Cradle Philosophy, waste equals food, meaning that everything is a resource for something else.
This is why it is rewarding to see young students of design using our materials and breathing new life into them, not least by being a source of inspiration and reflection.
Gabriella has used her graduation project to create a collection of rugs whose raw materials include leftover yarn from the carpet production process. This produces an exciting narrative and, not least, some beautiful rugs.
"The rug collection is called Taxidia, which means 'trip' in Greek and was notably inspired by selected individuals' best travel moments. 
My technique is hand-tufting. I've used the Cradle2Cradle concept to focus on selecting materials for each design that are recyclable together. Up to 80% of a product's environmental impact is said to be more or less decided in the design phase, which naturally requires me, as the designer, to design products that can meet requirements for quality and long service life and products that are basically designed for recycling. 
The rugs' journey in the circular economy continues when the used rugs are returned and resold as second-hand. Finally, they're taken apart and used to weave new rugs or they're converted into materials that become a resource serving a different purpose." Gabriella Constantinou.
We extend our heartfelt congratulations to Gabriella on her splendid graduation project and look forward to seeing how future designers will conceive products to be more sustainable and circular.
To see more of her work, go to her website or Instagram account:
Instagram
Website
Pictures from Kolding Design School