Holland America Line's and Seabourn's refurbishment strategies encompass sustainable interior design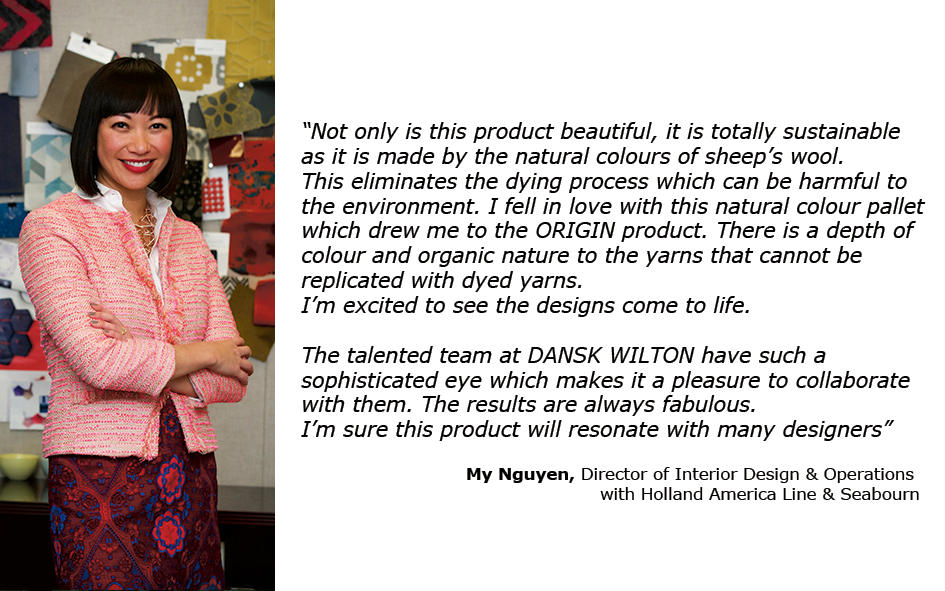 "This drive for sustainable materials has led to new, innovative products entering the marketplace, such as Dansk Wilton's new environmentally sustainable carpet…"
"Passenger Ship Interior & Refurbishment Review 2019",
Comment by Rebacca Moor, Editor.
In an interview in "Passenger Ship Interior & Refurbishment Review", My Nguyen, Director of Interior Design & Operations with Holland America Group, talks about the emerging trends within refurbishments of cruise ships.
My draws the attention to the fact that sustainability is going to have a greater impact on interior design; it is no longer just a land-based hotel demand, but a general demand, which will make its mark on the many new cruise ships and refurbishments.
This is also the case for Holland America Line, with My and her team actively choosing materials with a sustainable imprint. Her team has specified Dansk Wilton's new carpet solution Colortec ORIGIN for all staterooms in Holland America Line's (HAL) newest ship, due to be delivered in 2021. ORIGIN is also specified for the retrofit of the staterooms on their existing fleet, starting with the most luxurious Pinnacle Suites on board Zuiderdam and Westerdam.
My explains how sustainability and design form a unity in the ORIGIN carpet concept:
"Not only is this product beautiful, it is totally sustainable as it is made by the natural colours of sheep's wool. This eliminates the dying process which can be harmful to the environment.
I fell in love with this natural colour pallet which drew me to the ORIGIN product. There is a depth of colour and organic nature to the yarns that cannot be replicated with dyed yarns. I'm excited to see the designs come to life. The talented team at DANSK have such a sophisticated eye which makes it a pleasure to collaborate with them. The results are always fabulous.  I'm sure this product will resonate with many designers", My says.
Apart from the clear message of not using any dyes for the ORIGIN carpets Dansk Wilton's sustainability effort is structured and documented by certifying all Colortec carpet solutions according to the Cradle to Cradle Certified™product standard.
Pictures from Pinnacle Suite on board Zuiderdam